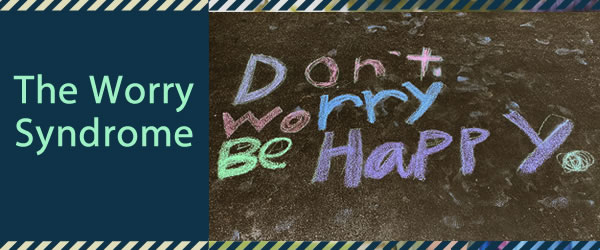 "Whatever you fight, you strengthen and whatever you resist, persists." -Eckhart Tolle
My mom gave me the "worry wart gene." As wonderful as she was as a mother, she always seemed to worry about me, the family, the weather and much more. As I became a young adult, I didn't understand her apprehension and frequently complained to her about it. With absolute assurance, she would pledge, "You will understand when you get older and become a mother."
Mom was right! Now, I am older and a mother, and I find myself worrying about my family, health, finances, and whatever happens to be on my mind. Unfortunately, my worries seem to skulk into my mind in the absurd hour of 2:30 AM. (Experts say that the greatest frequency for nighttime worries is between 1:30 and 3:30 a.m. when things are frequently quieter with less distraction and more opportunity for worry.) I blame the intrusion on the uninvited "Worry Monster," and I usually toss and turn as I struggle to fight him off.
Anxiety Coach, David Carbonell, Ph.D., says that, as adults, everyone worries and it's part of the human condition. We tend to experience thoughts that are generally exaggerated and unrealistic about bad things that could happen. He says that worries are not thoughts that you deliberately seek out; in fact, you probably try not to have them! The thoughts arise spontaneously, often against your will, or when some chance event reminds you of unpleasant topics. When worried or anxious, your mind and body go into a state of 'fight or flight' as you focus on what could happen. It can affect your daily life and can interfere with your work, appetite, relationships, sleep and reduce your quality of life.
In an article on worry, mindfulness expert, Dr. Christopher Walsh, emphasizes how important it is to avoid fighting the feelings or thoughts. Instead, he says, label the worries just as they are – simply thoughts – a creation of your own fear. Try to bring your mind back to the present moment and don't buy into the worry.
As I climb into bed each night, I now envision a "do not disturb" sign on my door for that dreaded nighttime Worry Monster. And when a worry appears on my mind anytime, I stop fighting it – and label it as a THOUGHT of my own creation.
https://margo360.com/wp-content/uploads/2021/04/margo360-happy.jpg
250
600
Cathy
/wp-content/uploads/2017/03/logo3.png
Cathy
2021-04-14 10:20:39
2021-04-14 10:25:15
The Worry Syndrome