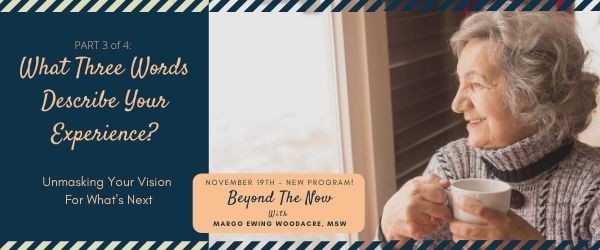 What Three Words Describe Your Experience?  by Margo Ewing Woodacre, MSW
Having the time to look back at (the lesson of learning to "Dance in the Rain" during my husbands Alzheimer's experience,) I ask myself, why wouldn't this work now in dealing with the stagnant circumstances of today? The fear of the pandemic virus is still terrifying, but I understand that patience, attitude, and creativity have helped me to find new methods of safely taking part in life and fulfilling my purpose. My time alone has given me the chance to see with more clarity.
This was my learning, but I wanted to see how other women, similar to myself, were surviving and dealing with this disconcerting state of affairs. I drew up a compilation of diverse, Baby Boomer women and emailed a simple questionnaire. Of those gaged, the majority responded immediately, expressing an appreciation of the invitation to share their thoughts on this issue.
Each woman was asked to write the first thoughts that came to mind.
Question: With the seven months of unyielding solitude during this quarantine, what three words come to mind to describe what you have felt?
Of the 35 participants, 70% listed at least one positive word to describe their spirits including such terms as Hope; faith; peacefulness; blessings; comfort; resilience; flexibility; empathy; reflection; renewal. The most used description among them was gratitude and gratefulness.
On the other hand, 30% listed only negative descriptions such as: Uncertainty; purposeless; loneliness; anger; limitation; social disruption; boredom; and, understandably, the most used terms of: anxiety and fear.
View Part 1 | View Part 2 | Continued next week.
REGISTER TO JOIN MARGO THIS NOVEMBER FOR A SPECIAL ONLINE INTRODUCTORY PROGRAM
https://margo360.com/wp-content/uploads/2020/10/10.jpg
250
600
Cathy
/wp-content/uploads/2017/03/logo3.png
Cathy
2020-11-09 06:57:07
2020-12-21 14:36:36
Unmasking Your Vision For What's Next - Part 3