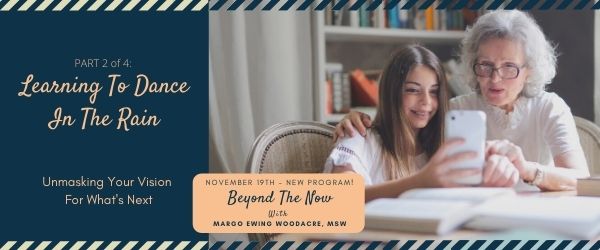 Learning to Dance In The Rain by Margo Ewing Woodacre, MSW
Living through this pandemic brought back the same feelings I had when my husband was diagnosed with Alzheimer's disease. Ten years ago, the same questions emerged. I remembered how I struggled and played victim for a few months after his diagnosis. I felt my world had collapsed around me, and it wasn't until someone shared a bit of wisdom with me that I decided not to let this defeat me! One day in my self-wallowing, I ran into a neighbor who was also caring for an invalid spouse. She wisely told me, Life is not about waiting for the storm to pass; it's about learning to dance in the rain. I realized that I had the choice between being a victim or survivor. It was then that I decided to learn to dance with the uninvited circumstance that had entered my life!
For the following four years, our lives were filled with adjustments that fit the situation and still brought us happiness and contentment. The disease was yet present, but we continued to live our lives by enjoying the little things in life. It all had to do with having patience, changing attitude, and employing creativity.
REGISTER TO JOIN MARGO THIS NOVEMBER FOR A SPECIAL ONLINE INTRODUCTORY PROGRAM
https://margo360.com/wp-content/uploads/2020/10/6.jpg
250
600
Cathy
/wp-content/uploads/2017/03/logo3.png
Cathy
2020-11-03 06:50:59
2020-12-21 14:36:01
Unmasking Your Vision For What's Next - Part 2